MOI ABSHER
What is Absher KSA?
MOI Absher is an online government service offered by Ministry of Interior of Saudi Arabia for all residents of Saudi Arabia including citizens and expatriates. With absher, you can use various online government services like Iqama renewal, checking expiry date of iqama, driving license and much more. Recently Saudi Arabia's government has moved almost all iqama related services to MOI Absher website which were previously accessible in MOI website without need of any absher account. For example: In past, you were able to check the expiration date of your Saudi Iqama without any absher account but now you have to have an absher account to check it. [Recommended: Check Iqama Expiry Without Absher Account.]
Many other services have also been shifted to MOI ABSHER now. So, It has become mandatory to register your absher account which is very easy and free of cost. As long as you are legal in Saudi Arabia and have a valid iqama you can register your absher account easily.
How to Register Absher Account?
Many people are worried because of recent changes in online services because they do not have a registered absher account. For this reason, they are not able to use many MOI online services but it is not a big problem. Creating an absher account is very easy. You can register your absher account within a few minutes by following these simple steps:
You can use this method either you are a smartphone user or pc/laptop user.
Step#01: First of All, you have to open the official absher website by Clicking Here.
Step#02: Once you have opened this website, you will see two options "Business" and "Individuals". You should click "Individuals". Please see screenshot below:
Step#03: On the very next page, you will see a page which is in Arabic and English mix. You can change language into English. All you have to Click English at top of the page to choose English. please see below screenshot.
Step#04: Now, you will see a page asking for absher login but you cannot login to absher because you don't have asher account, so you have to click on "New User" to create new absher account as shown in the following screenshot:
Step#05: When you click on New User, a new form will open before you. It is user information form where you have to enter your information. Generally you have to enter
Your iqama number as an Id number
Your Mobile phone number
You have to choose your user name in English. You can choose any user name you want. You should keep your user name saved safely because you need to enter user name every time you want to login to your absher account. If you ever forget your user name, you can use your iqama number instead of user name.
You have to choose a password and enter it in two fields given for password. Password should be mixture of small plus capital letters plus some numbers  and it should not be very short, better to be more than 8 characters.
Enter your email address in two fields given for this.
Choose language Arabic or English.
You will see an image or small picture which has some numbers. You have to enter these numbers in the field labeled with "Image code". It is actually a captcha code as you see at many websites while creating accounts.
Finally Click the Box located with "I agree to term of use and privacy policy"
Click "Next".
Please see the following screenshot:
Step#06: Once you have clicked "Next", system will send an SMS with verification code to your mobile phone number which you have just entered. A new page will open, asking you to enter the verification code which you have received through SMS. Enter that code and Click "Register" or "OK" whichever is available. If system ask you to enter id number again, you should enter iqama number.  Once you have done all this process, You have successfully registered your absher account. It is time to activate newly created absher account.
Absher Account Activation:
After successful registration of MOI absher account, you will receive a confirmation message on screen of your device. It will instruct you to go for absher account activation. It is the last and final step.  The following methods can be used for absher account activation.
Absher KIOSK self service machine (easy method)
Through your bank
Jawazat office
MOI Absher Kiosk Self Service Machines:
You need to visit nearby Kios self service machine which is also known as MOI e-services machine. At machine, you  have to follow these steps to activate absher account:
Choose language, you can choose either English or Arabic by touching/taping the screen as you do you on touch screen of your phone.
Next step; you have to choose service , you should choose "Register/activate".
It will ask you to enter your id number. Iqama number is your id number, so enter your iqama number by using the touch pad of screen. and Click/tap  "Next".
It will ask you for finger prints. You can see there is a finger print reader attached with the machine and you can easily locate it, it usually has a blue light. You have to place the index finger of your right hand on finger print reader of the machine. Once it is done, you have to place index finger of your left hand for finger prints on finger print reader.
Once you have given finger prints of index fingers of your both hands, you will see on the machines screen, it will show you the term and conditions. Read carefully and click "agree".
It will ask you to enter your mobile phone number which you entered during MOI absher account registration. Enter the number by using touch pad and machine screen and click "next". System will send a verification SMS with an activation code to your mobile number.
Once you received verification code through SMS, you have to enter that code on Kiosk machine screen asking for code. If you don't receive code, you can click on resend code. Enter the code and Click "Next".
You will receive a confirmation SMS " Your identity has been authenticated successfully. You can access your account portal using link below". It means you have registered and activated your absher account successfully.
And also you will see a Congratulation message on screen of MOI e-services machine.
Do not forget to Click "Exit" on screen before leaving the machine.
MOI Absher Login Method:
Once you have registered and activated your account at MOI absher. You can now login to your absher account easily through browser of your smartphone and pc/laptop. All you have to open https://www.absher.sa , click "individuals", Choose English as language, and you will see absher login page. Enter your user name which you created during absher account registration, you can enter your iqama number instead of user name, enter the password you chose while creating account, enter image code shown in small picture and click "Log in". Once you have clicked "Log In", system will send an SMS with a code to your registered mobile phone, you have to enter that code correctly for successful login to your account.
Please see the screenshot below.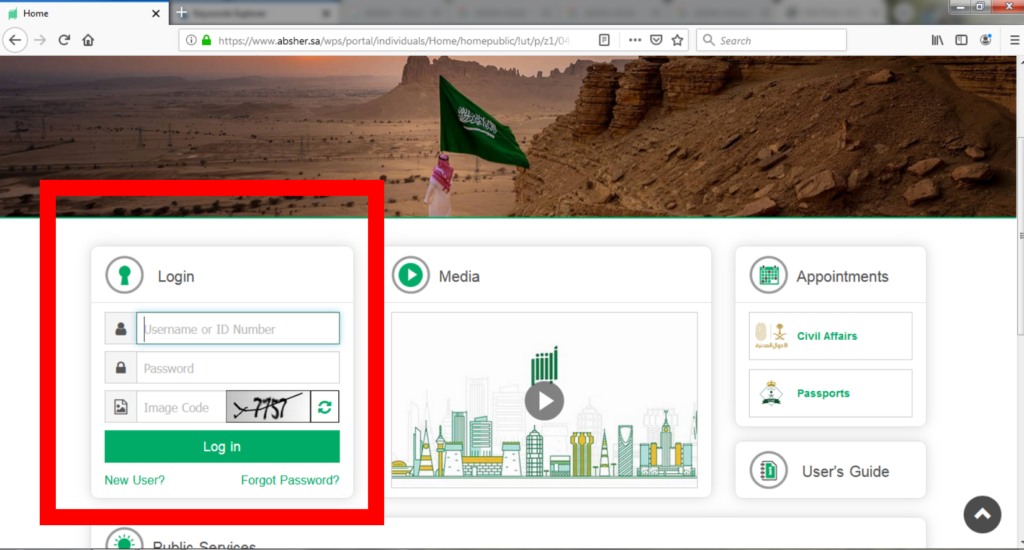 MOI Absher App:
Abhser app by MOI is also good product. You can download absher app by clicking here . You can check and manage all services related to your iqama without pc/laptop.
{click to open al rajhi bank online bank account in 2 minutes}