How to Apply for Portugal Job Seeker Visa 2023?
Note: Now, you can your eligibility for Portugal job seeker visa, simply go to the end of this page.
Portugal is one of the most visited countries. Everyone wishes to see all the stunning natural scenes this place offers. It's located in Southwestern Europe and it's a perfect place with many perspectives such as making a living, working, or settling with family on the Iberian Peninsula (a mountainous region of Portugal and Spain). The good news is that a Portugal job seeker visa is a great opportunity provided by the Portuguese government. If you are among the wishing aspirants, then you can apply for this visa category from anywhere in the world. The only thing standing between you and a life-changing moment is legibility requirements.
UAE Job Seeker Visa, Click here.

Finland Opened work visas, click here.

Get Free Hotel Booking, click here.
The Portugal job seeker visa was first announced back in June 2022 due to the skill shortage in the country. The job seeker visa is used to enter and stay in Portugal to find a job in the profession you are skilled. This visa enables visa holder to find a job in Portugal and change current status into work visa and residence permit, which can lead to permit residence of Portugal eventually. If you are doing well at the job, apply for a residence permit to continue working. The job seeker visa duration is for 120 days and it can be renewed for another 60 days. Only one-time entry is allowed. Both skilled and unskilled can apply.
Portugal Job Seeker Visa Appointment Booking:
We have received several complaints from our readers that booking appointment slots are not available at VFS global, so they are failed to book appointment. In this case, we suggest you to directly contact Portugal embassy for through their email address. Go to your Gmail or any other email service, write a new email , request embassy to grant an appointment. You should attach your IDEF approval and email address. Embassy might grant you an appointment date and time, so you will be able to submit your documents and visa application directly at embassy instead of VFS global.
Do I need Job offer for Job seeker visa?
No, you don't need any job offer to apply for a job seeker visa.
What if you cannot find a job with job seeker visa?
You can extend your visa further for 60 days. Your total stay cannot exceed 180 days. You have to leave country and can reapply job seeker visa after one. However, some people might consider SEF registration to extend their stay in Portugal.
Can you change job seeker visa into work visa?
Yes, once there is an employer willing to give you job offer/contract, you can change your existing job seeker visa into work visa and can get a residence permit in Portugal.
Do I need IELTS for Job Seeker visa?
Originally, IELTS is not required for Portugal Job Seeker visa, but if you already have IELTS, it might help.
Let's discuss this topic briefly including the whole process.
Portugal Job Seeker Visa Requirements:
The given general documents are mandatory. Before you apply for the visa, ensure that you meet the following eligibility requirements:
No IELTS is required.
The National Visa application should be filled out and signed by the applicant only.
A valid passport or other travel documents with a minimum expiry of 6 months after the date of return. A photocopy of the passport should be attached.
2 recent passport-size photos of the applicant, and in good condition easy to identify the applicant.
Proof of regular situation in case of staying in another country than the current nationality.
Criminal history and record by the relevant Immigration and Border Services. (Not required for minors under sixteen).
A criminal record certificate, issued by the relevant authority where the applicant has stayed for the last year.
Valid travel insurance that will cover important medical expenses in case of any medical emergencies and possible repatriation.
A valid transport document with all the correct information of roundtrip, flight, and hotel reservation including the dates of departure and return.
Bank statements or proof of financial resources that are enough to survive at least three months without any issues. (May vary on the time of applying for the Portugal job seeker visa). Generally, you should have an amount equal to 2200 Euro. You have funds in your local currency.
Declaration with indication of the conditions for the estimated stay. It is almost similar to a travel plan. You have to describe your plan of activities in Portugal. Where will you stay, where will you apply for a job. You can find more about industries and employers on job search websites.
Attested educational/technical/academic qualification documents.
You should attach each document which can support your application, your eligibility.
CV/Resume : An appealing CV/resume should also be submitted along with other documents. You can find how to write an appealing CV/Resume in this article by clicking here.
Germany Job Seeker Visa, Click here.
Portugal Job Seeker Visa 2023 Application Process:
Submit A Declaration of Expression of Interest for IEFP Registration:
First of all you have to submit a declaration of interest online. Filling declaration form is quite easier. You can access the form at this link:
https://formularios.iefp.pt/index.php/929227?lang=en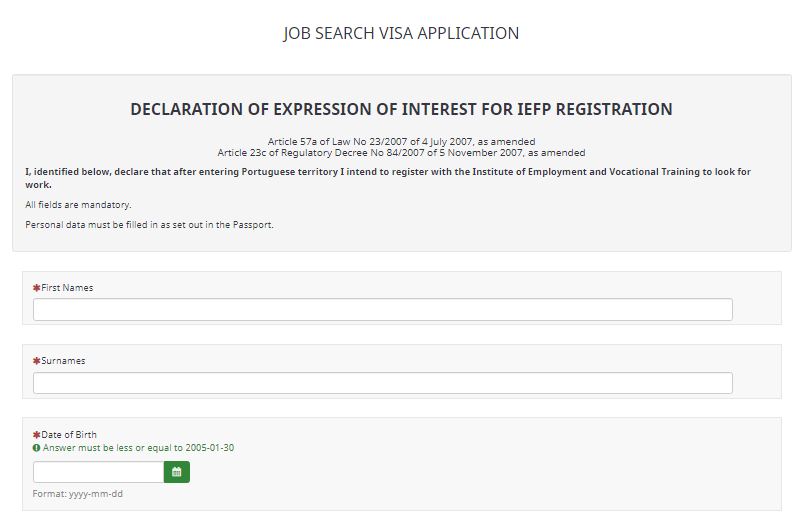 In order to apply for the Job Seeker Visa, you have to fill in the online application. You can also ask or hire a consultant to apply on your behalf. The application is to identify and declare that after entering Portuguese territory you intend to register with the Institute of Employment and Vocational Training to seek work. Enter all the personal details as mentioned on the Passport. Select the profession that you are skilled in or have experience with.
You can also check the list of professions given on the website.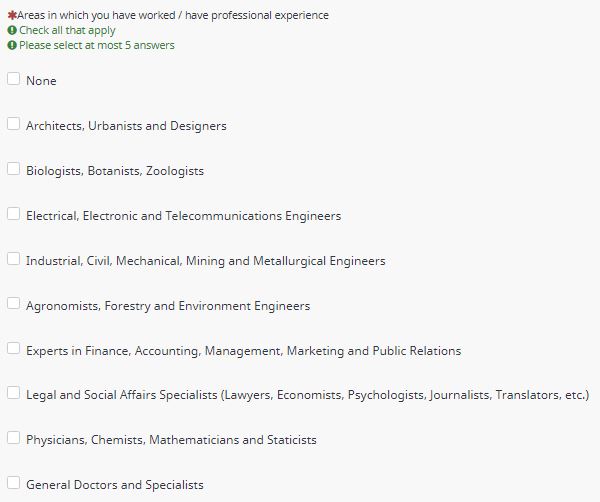 You will receive an approval from IEFP through email. Please note, IEFP approval is not a visa, instead it is a requirement to apply Portugal Job seeker visa. You can now proceed to your actual visa application.
How to apply Portugal Job seeker visa?
This visa can be used to enter Portugal to find employment and apply for a residence permit afterward. The application process includes the following steps:
Visit embassy or visa application center's website.
Choose your visa type as "Job seeker"
Gather all require documents according to document checklist.
Filling out and submitting the application.
Locating the nearest Portuguese Embassy or Consulate or visa application center like VFS Global.
Make an appointment once you get the reply. You may have to call or email them.
Submit the required documents on the date of the appointment. Give the visa interview if required.
It's important to keep in mind that this visa is only valid for four to six months and hopefully during this time you will find a job.
Processing Time and Fee:
The visa process can take several months you will have to be patient. It will take two to three months for the Portugal Embassy to issue an entry visa. There's no fee that needs to be paid before you can move forward with the application. €90 for the entry visa issued by the Portuguese Embassy – (may vary from country to country).
Conclusion
We have tried our best to provide all the important information about Portugal Job Seeker Visa 2023. However, this type of visa takes months to process, so submit your application and wait as there will be a long queue. We wish you good luck with the application!
Important Links: IEFP Approval for Job seeker visa, click here.
Portugal Immigration Job seeker page, click here.
Check Your Eligibility for Portugal Job Seeker Visa: