If you want to Check PTA Mobile TAX online, you are at right place. Since the Government of Pakistan has strictly imposed high taxes and duties on importing smart devices such as mobile phones. In Jan 2019, these taxes were officially announced and followed by Pakistan Telecommunication Authority (PTA). This means whenever someone brings or imports new smartphones to Pakistan, PTA Tax will be applicable before they can use a network sim card uninterrupted. However, PTA gives you a time period of 2 months once you insert a sim card into the Non-PTA mobile phone. So sim cards will work for 2 months then they will be blocked until the hone is PTA-Approved. It's mandatory to make a smartphone PTA approved to use sim on local networks. So what's the procedure to check PTA mobile Tax? Let us discuss this topic ahead.
Good news: Free PTA Mobile Registration, click here.

PTA Mobile Registration New Policy in 2023, Click here.

PTA TAX on iPhone in 2023, click here.
Steps to Check PTA Mobile Tax:
Just follow these steps one by one briefly.
1. First you will have to open your mobile or computer browser and type fb.gov.pk and hit enter.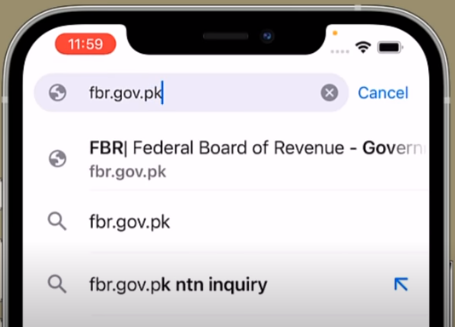 2. Now you will be directed to the official FBR website.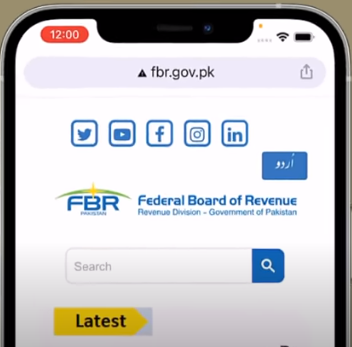 3. Here you will have to scroll to the very end of the CUSTOMS section and tap on DIRBS.
4. Once you are on the DIRBS page scroll to the end again and tap on Device Verification System PTA.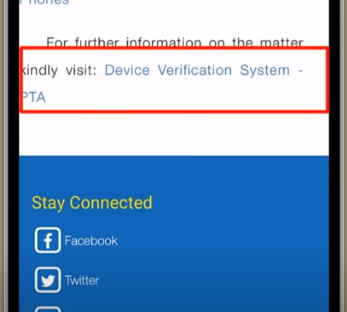 5. You will be directed to PTA linked portal website.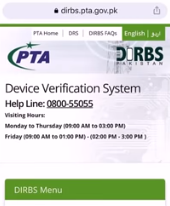 6. Scroll a bit until you see the "Check your device status" option.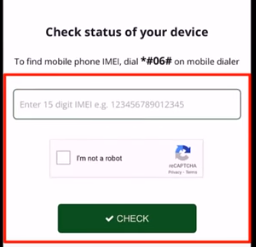 7. It will now ask you to put the IMEI number of your device to check PTA mobile tax.
8. Dial *#06# from your mobile keypad to get your drive IMEI number. Single sim mobile has 1 IMEI and double sim mobiles have 2 IMEI numbers.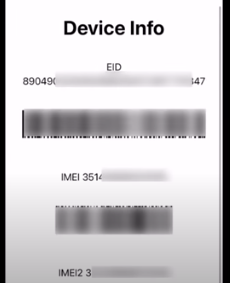 9. Copy these numbers and paste them into the "Check your device status" box.
10. Now tick the "I'm not a robot" box and hit check.
11. On the next page your PTA mobile status will be given. In the picture below you can see this IMEI is not approved so it's a red cross. If it was approved you will see a green tick.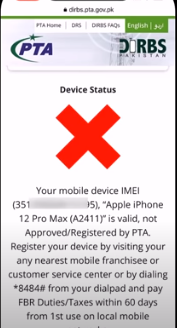 How to Check Mobile PTA Tax Status via SMS
Yes, you can also the imported mobile hone PTA status via SMS if you don't have an internet connection. Follow the given steps.
1. Open your mobile phone dialer.
2. Dial *#06# to see the IMEI number of 15 digits.
3. Once you can see the IMEI number. Copy and send it to 8484 via SMS.
4. You will receive a message with the details of your device's PTA Tax status.
How to Calculate PTA Mobile Tax Fee 2023
In order to check PTA mobile tax fee, you will have to confirm the mobile brand, model, and network type first. The federal board of revenue (FBR) has placed Six different slabs for PTA tax on imported mobile phones.
PTA Tax calculator for Passport Holder
People who travel abroad or import mobile devices might have a little bit of relief in the PTA tax fees. We have provided PTA mobile tax list below. The estimated fee mentioned on the table is for people with a passport. Keep in mind the actual PTA tax might be different time by time.

PTA Tax Calculator for CNIC
The PTA tax on imported mobiles is a bit higher. This is because you have the imported phone without traveling aboard. You can find out the PTA tax for CNIC in the given table.

Conclusion
People who are thinking about bringing or importing phones from abroad should know about the PTA tax. In this article, you will find all the information about PTA tax and its registration process. I hope all your queries regarding the PTA tax for the imported mobile phones should be fulfilled. Using the above method, you can check PTA Mobile TAX online.