How to Pay PTA Tax Online?
If you buy a used or refurbished smartphone in Pakistan, then you should know How to Pay PTA Tax online. Because, after owning an imported smartphone it's the first thing you need to do. The IMEI number can only be verified with the Pakistan Telecommunication Authority (PTA). In case your device is not verified, it will not be recognized by the PTA system and will be eventually blocked after working for 2 months. This means will not be able to work on any cellular network in Pakistan.
 People who don't want their mobile phones blocked can register now with the help of PTA by paying the imposed taxes. Paying the mobile device due taxes is straightforward and can be done online by following a few easy steps. In this article, we will try to provide you with step-by-step instructions on How to Pay PTA Tax online. So, let's discuss this briefly.
Check PTA TAX, click here.
Steps to Pay PTA Tax Online
The process of paying PTA tax online has been given in detail below. Just follow the simple steps!
Create an account on DIRBS official website.
In order to pay PTA taxes, the first thing you need to do is create an account and access the Device Identification Registration and Blocking System (DIRBS) website.
Once you are on their website, you have to register with them using the portal.
On the next screen, some notifications will appear containing important guidelines, read and follow them carefully.
Now, you'll be asked to fill up fields by selecting from the drop-down list. Enter your purpose. Select either the "personal" or "commercial" type option. Please keep in mind that the "commercial" option can be used by organizations and importers who have registered themselves with the Federal Board of Revenue (FBR).
Once you have selected the purpose, now specify your "user type" from the available options. There will be two options: Pakistani (local, international traveler, dual national) and Foreigner (Travelled on Visa). So, select your preferred option and move forward to the next step.
In this step, fill out the required information and click on the "Submit" button.
Before you log in, ensure that the provided email is correct because PTA will send an email to verify your account.
Certificate of Compliance (COC)
After completing the steps above, now enter your email address and password to log in to your created and registered PTA account.
Search for the Individual Certificate of Compliance (COC) certificate option, which will be visible on the left-hand side of your screen, right under the "Dashboard".
Select the "Individual COC", now multiple options will appear in the section. Select "Apply for COC" for further process.
It doesn't matter if you are a local or an international traveler, select the option f your own choice. International travelers may have to enter their passport numbers.
As a local mobile user, just provide your mobile number with the operator's name such as Jazz/Warid, Telenor, Ufone, or Zong.
Checking Device's IMEI Numbers
Now check and select the correct options for the number of Sim slots on your non-Pta smartphone. Some have one, two, three, or even four slots. Usually depends on the phone manufacturer.
Now provide the IMEI number given for each of the SIM slots.
Check your device's IMEI number(s) by dialing *#06# using the keypad.
Generate a Payment Slip Identity (PSID)
Once you are done entering the IMEI number of your mobile device, a unique PSID will now be generated.
Use this PSID to pay the PTA taxes imposed on your smartphone and make it a PTA-compliant device.
PTA mobile taxes can be easily paid online through any bank using a direct bank transfer. Payments can also be made through many famous mobile wallet services.
Mobile Phone PTA Tax Calculator (Passport)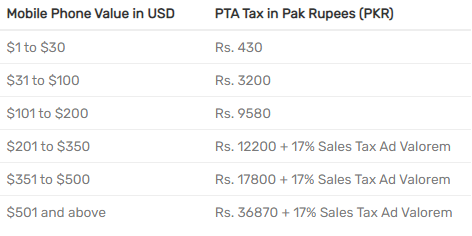 Mobile Phone PTA Tax Calculator (CNIC)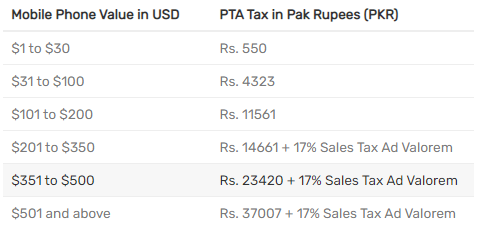 We hope now you know How to Pay PTA Tax online and you can do it yourself easily. ATMs and bank branches of all major commercial banks accept payments of PTA mobile taxes in Pakistan. You can also visit cellular network franchises like Jazz/Warid, Telenor, Ufone, or Zong to make payments against provided PSID. Source: PTA