Check Kuwait Civil ID Status:
If you are living in Kuwait, it is highly advisable for you that you should check your Kuwait civil id status off and on. Why should you check your civil id status? Because It is an identity card for you in Kuwait. You need to present your valid civil id card whenever you want to use some government or private service in Kuwait, For example: If you want to open a bank account, you need to submit your valid civil id along with other required documents.
Kuwait civil id card is also known as PACI civil id or Bitaqa Almadaniyah. Foreigners who have residency visa of Kuwait, they are eligible to apply for Kuwait Civil id card. Residency visa includes Employment visa, dependent visa, spouse visa, investment/business visa and student visa etc.
Whatever type of residency visa you have, it is mandatory for you apply for civil id card soon after you enter Kuwait. Generally, you have to apply for civil id card within 30 days after your arrival in Kuwait.
New Civil ID Rules Added More Importance:
In March 2019, The Ministry of Interior of Kuwait (MOI kuwait) announced new rules regarding Kuwait Civil ID. According to new rules, they will stop placing residency visa on passports. All data related to expatriates passport and residency visa will be included in civil id data base. It means foreigner will use valid passport and valid Kuwait civil id card to enter and exit Kuwait each time. This increased the importance of civil id card to maximum.
It also reveals that if your civil id is not valid, you will not be able to exit Kuwait unless you get it renewed.
How to Check Civil Id Status?
The Public Authority for Civil Information (PACI Kuwait) has launched an online portal where you can check your civil id status online. We have shared step by step process how you can check PACI civil id validity.
You can check your civil id status through the browser of your PC/Laptop as well as smartphone or tablet. Mostly users prefer to use smartphone browser, so we have explained all methods to check it on any device.
Steps to Follow to Check Civil ID Status:
Step#01: First of All visit the official website of Kuwait Government . This is the direct link which will take you to the page where you can make civil id inquiry. This website works under PACI Kuwait. Once you have opened the page, You will see a heading or title "Inquiring About Civil ID Status".
Step#02: You have to have your civil id number to make inquiry. It is time to enter your civil id number in the box which has label of "Civil ID". Enter your civil Id number correctly and Click "Query". That's All ! System will show the status of your Kuwait Civil ID within a few seconds. Please see the following screenshot for better understanding.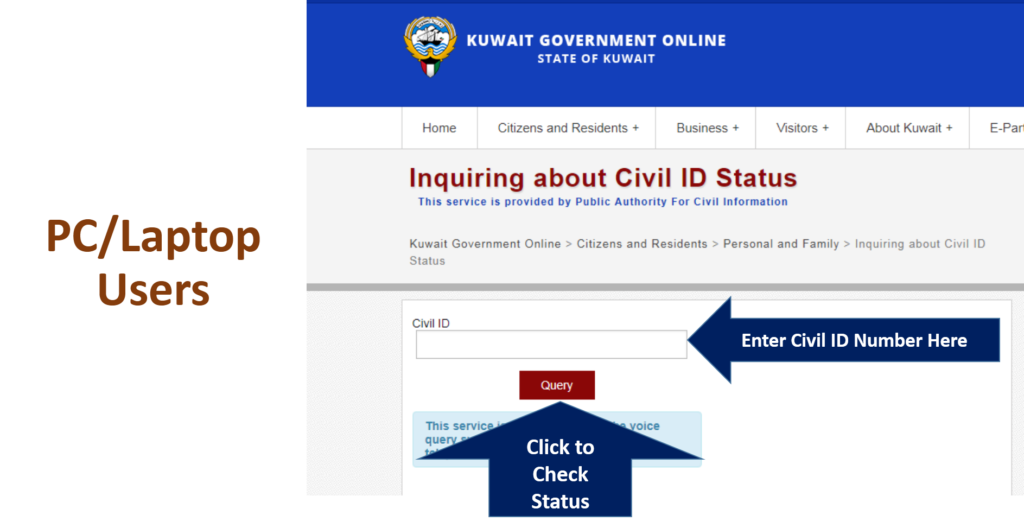 Results of Civil ID Status Inquiry:
Depending on your civil id validity, system will show your two types of response. If you are holding a valid id card, you will receive the following response from system: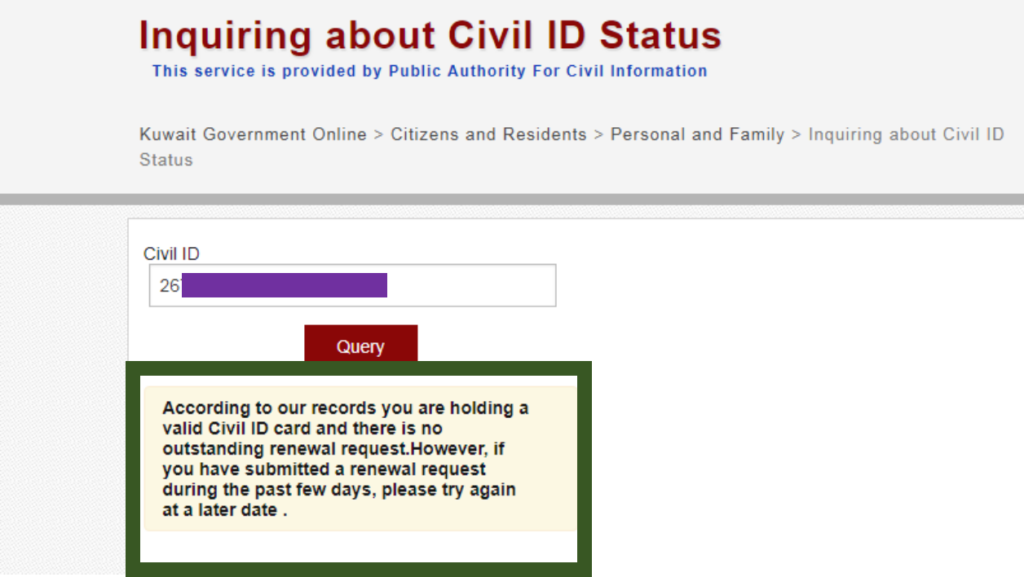 It means your civil id card is valid. And it is also to be noted that if you have applied for civil id renewal, you have to wait for a few days to check your civil id status.
If you are an id card which is not valid, you will get the following response from PACI system upon making inquiry: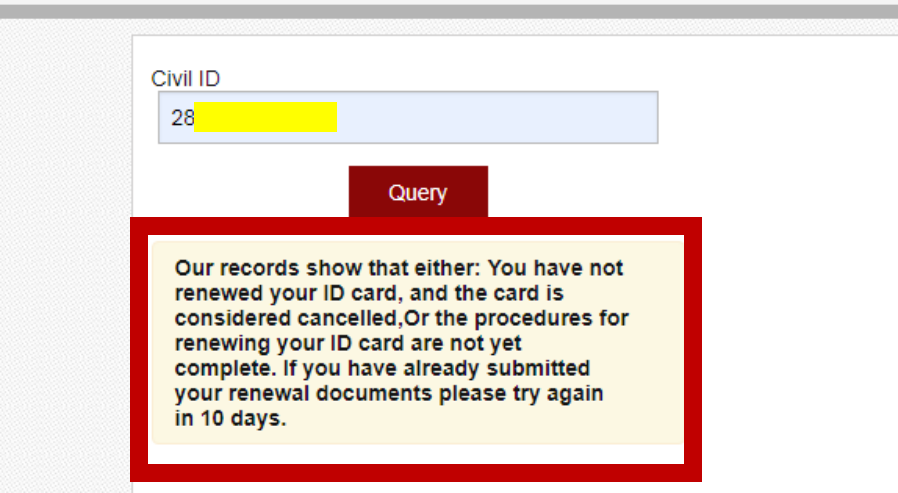 It means your civil id card is not valid any more or may be cancelled already. In this case, you have to find the reason of invalidity and try to resolve the issue.
Alternate Method to Check Civil ID Card Validity:
If you don't want to use above mentioned methods, you can use another way to check validity of your residency card or civil id card. All you have to dial a number through your cell phone or landline. This number is "1889988". This is the voice query system of PACI. Simply call this number and follow the instructions which will be told you by automated voice system.
You can check status of your Kuwait Civil Identity card by using any of above easy and quick methods. We will be back with more helpful information for expats in Kuwait.