OEC Pakistan has opened registration for EPS Korea 2023 work permit.
EPS Korea 2023 and OEC Registration 2023:- Same as every year, the golden chance to get south Korea work visa in Pakistan is arrived in 2023. The HRD Korea hires  workers for Korean companies from Pakistan with the co-operation of Pakistan Overseas Employment Corporation (OEC) every year. This is a golden opportunity for Pakistani citizens to live, work and earn high salary in a greatly developed rich country. In the whole process of recruitment, there is no agent or consultant involved, so there is no risk of fraud or money loss.
This system is called EPS Korea which stands for Employment permit system of South Korea. Every year thousand of people go to Korea through EPS Korea not only from Pakistan but also from 16 other Asian countries. Read also: Australia farm worker visa.
Watch Youtube Video on OEC Work Permit: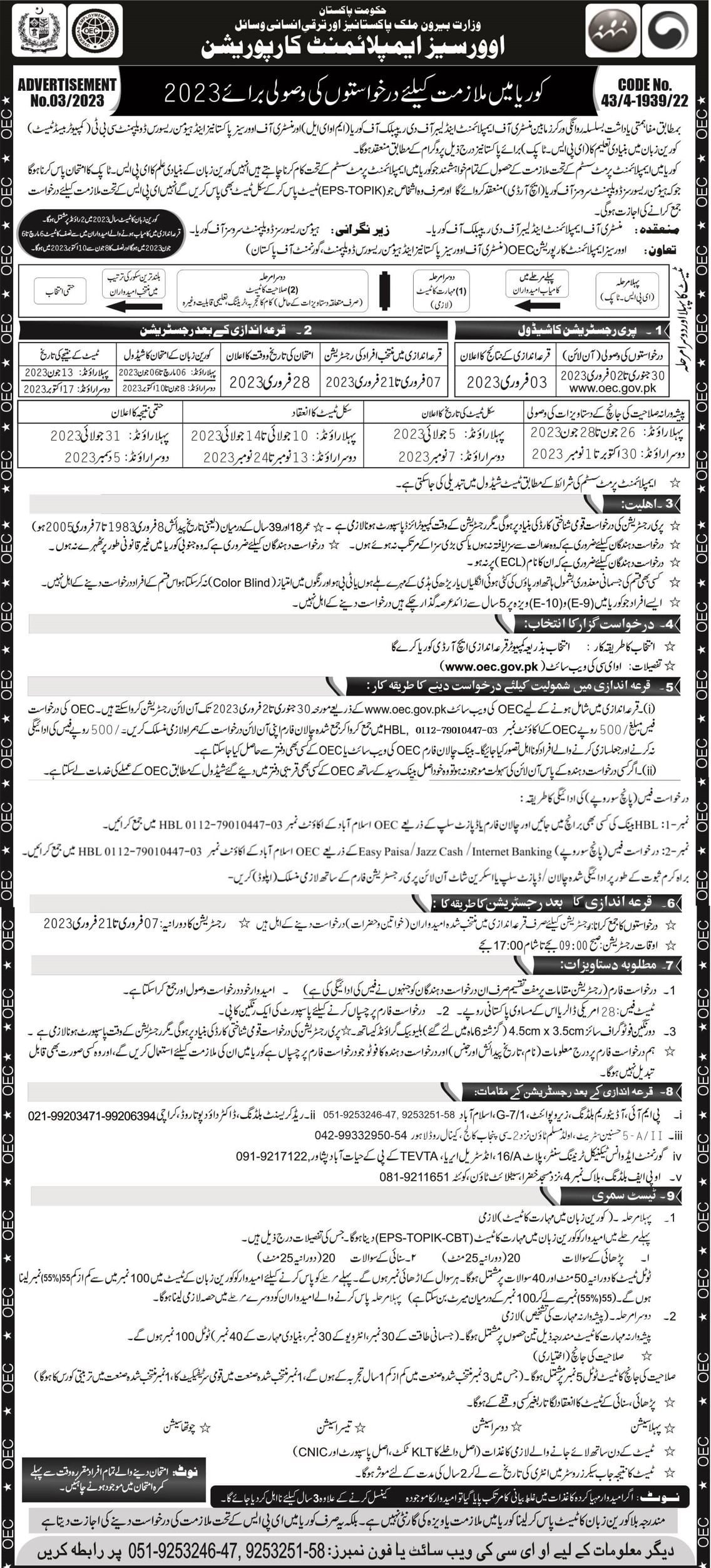 Click to Apply for OEC Pre Registration Online.
What Visa Will You Get through EPS?
You will get South Korea E-9 Work Visa through Pakistan overseas employment corporation under eps. This visa allows you to live and work in South Korea for a period of maximum 4 years and 10 months. When you come back to Pakistan after 4 years and 10 months, OEC Korea may give you another chances to get E 9 work visa again for 4 years and 10 months. You will have this second chance to get the same visa provided that you had worked in only one company and did not change employer with your previous visa. However, Pakistan OEC announces the process of application through advertisement each year.
OEC Korea Jobs Salary:
You can earn a salary minimum 200,000 Pakistani Rupee per month with E 9 work visa, overtime allowance is exclusive. Your employer is responsible for facilities of accommodation, food, medical and others for you. In fact, facilities and income are much more higher than that of Gulf countries.
What Type of Work You Have to Do in Korea?
South Korea E-9 work visa is non-specialized employment permit or work visa. Generally, workers are recruited to work in manufacturing industry. Depending on your skills or qualification, OEC can select you to work in various type of factories such as Plastic factory, Textile, Metal work, Food, wood, auto parts, rubber and many others.
OEC Korea Visa Application Process:
The selection and recruitment of process of candidates is managed by Pakistan OEC with co-operation of HRD Korea. Generally, you have to go through the following steps for this visa:
1- OEC Registration 2023:
Pakistan OEC announces at its official website as well as in national newspapers when pre-registration is open. Pre-registration can be done online at official website of OEC. There are two major steps of online registration for Korea Visa
Download and fill challan form to pay OEC registration fee. Generally, PKR 500, is charged as a registration fee. You have to pay fees before online registration otherwise you will not be eligible for registration. Fees with challan form can be deposited into HBL limited bank. Every years Pakistan OEC announces details of its bank account. You can find bank account number of OEC in advertisement.
Once you have paid OEC Registration fee, the hbl bank will give you 1 receipt of challan form. Now, you have to visit official website of OEC and apply for online registration. You have to upload scan copy of paid bank challan form during registration as well. Fill online registration form, upload scanned copy and click submit. You will see a message of success. It means you have done OEC pre-registration successfully.
2- EPS  Lucky Draw Results:
After Pre-registration, OEC selects candidates through ballot/draw. The ballot results are displayed at official website of OEC. EPS draw is conducted to choose candidates for Korean language test. People selected through ballot will have to apply for Korean Language Test registration. If you find your name is included in the list of selected candidates, you need to proceed to the third step.
Korean Language Test Registration:
If you are selected through the draw, you have to pay Korean language test registration fees which 24 USD, you have to pay this fee in Pakistani rupee currently it is 3700 pkr. Details of bank account, challan form and account number is published by OEC every year. After paying fees, you need to visit OEC office in person for test registration along with your id card, passport  paid challan form and their color copies and 2 passport size photographs
4- OEC Korea Language Test:
This is called EPS TOPIK test. It is mandatory for you to pass this test with highest marks as much as possible. OEC will tell you about test centers. It is better to start learning Korean language before first registration so that you will have more time to learn it. However, if you are selected through ballot, you will still have sometime time to learn language.
After Korean language test, you have to have a skill test which is also conducted by OEC. This helps you to gain more points in merit list.
Finally, OEC displays the merit list at their website. Successful candidates need to give an application for job in Korea in their relevant trade. OEC will guide you in this regard.
OEC Korea Points System:
OEC uses a points system to shortlist candidates for final merit list. Points are usually granted based on the following factors:
Korean Lanuage Test (EPS TOPIK)        100 Points
Skill Test                                                           100 points
Total points:200
based on work experience, your vocational qualification, having certificate from government,  you may get additional points which are 5 maximum. You need to score high point to be at the top of final merit list.
Will you get visa for sure:
You should note that if you pass language and skill tests successfully, it does not mean you will get visa for sure. Your name will be included in merit list. Depending on demand of Korean companies those who have highest points will get e-9 visa first. You have to wait for your turn. Not all test passers get visas every year because the number of available visa are not very high.
Your test result may be valid only for two years. if you do not get visa in this period, your test will be expired and you have to do whole process again from zero.
OEC Registration 2023 Age Limit (for OEC Korea Visa):
Every year OEC publish eligibility criteria for Korea e-9 visa application. Generally, People with age between 18-39 can apply for this program.
Contact Details of OEC Offices
Head Office, Islamabad
PMI Auditorium Building
Khayaban-e-Suhrawardy,
Near Zero Point, G-7/1, Islamabad
Phone:+92-51-9253245, +92-51-92532 51~57
Fax:+92-51-9253244
OEC Registration 2023, Regional Office Karachi
Red Crescent Building,
Dr. Daud Pota Road, Karachi
Phone:+92-21-99203471,+92-21-99203474
Fax:+92-21-99203472
Regional Office, Lahore
5A/II, Hussain Street, Old Muslim Town Near 2-C Punjab College campus, Canal Road, Lahore
Phone: Incharge: 042-99332950
P.E..Wing: 042-99332951
Admin/Account: 042-99332952
Operations: 042-99332953
Korean Language Training: 042-99332954
Fax:042-99332955
Regional Office Peshawar
Government Technical & Vocational Center Gulbahar
Peshawar
Phone:+92-91-9225473
Regional Office, Quetta
OPF Building, Block No. 4,
Near Masjid-e Khazra,
Satellite Town, Quetta
Phone: +92-81-9211651
Fax:+92-81-9211652
OEC Travels
No.1, Potohar Plaza,
Fazal-e-Haq Road,
Blue Area Islamabad
Phone:+92-51-9219515, +92-51-9219092
Fax:+92-51-9219085