How to Open an Amazon Seller Account in Pakistan in 2023?
Today, we are going to give you a complete guide on how to open an amazon seller account in Pakistan in 2023. Amazon tried its best to provide every chance to sellers for sale. According to the available data, $2 billion were made in sales last year. That's proof of the massive majority of customers available on Amazon. Sellers have opened their seller accounts on Amazon globally. Many Pakistani vendors also want to open an account and start selling on Amazon. The good news is Pakistan is officially included on the Amazon seller list. You can create your Amazon account from Pakistan easily and it won't take much time either. Just follow our step-by-step guide.
Amazon Seller Account in Pakistan
There is no doubt that nowadays Amazon Pakistan sellers are making a lot of money in one of the most famous online marketplaces. This is also because of the variety of options given to vendors. Prime membership includes 95 million individuals worldwide and 150 million total monthly customers. These customers make purchases on regular bases. If we compared the profit margin of eBay and Walmart, Amazon is way more successful as it sold over $2 billion in merchandise from over 2,000 different sellers. It is the best option when it comes to maintaining profit margins of over 20% minimum.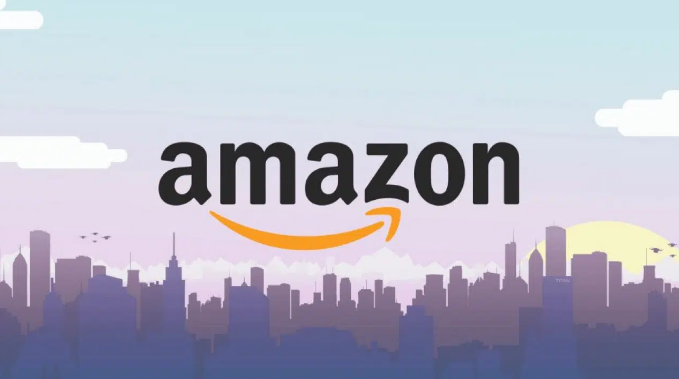 Pakistan is a successful country when it comes to running online businesses. You will be shocked to know that 70% of Pakistanis are buying from Amazon. So it's irresponsible of them to keep their door closed to the biggest opportunity. People should wake up and break down any barriers stopping them to create profits and new opportunities in international markets. We are not talking about regionally here but internationally.
Amazon added Pakistan to its seller network a long time ago. This most significant possibility is still available to Pakistani sellers who wish to sell on Amazon. We will also be going to discuss how to open an amazon seller account in Pakistan in 2023 with Pakistani documents. You heard it right, no need to ask one of your relatives in the USA to help you register an Amazon seller account on your behalf.
Benefits of Selecting Amazon for Selling
Amazon is one of the best platforms to sell products online. It comes with many benefits to people who want access to a large market with customers who really spend money.
The following benefits of selling on Amazon:
Market access with billions of potential customers
Amazon's reliability. People trust and love shopping on Amazon.
Amazon's reputation is superior compared to that of other platforms.
Amazon Prime can assist you to generate revenue and a consumer base.
There is no listing cost for individual sellers. It is necessary to pay $39.99 for a business account with unlimited orders on Amazon.
If you are doing FBA, Amazon handles everything for you.
Steps to Open an Amazon Seller Account in Pakistan in 2023
Before we jump right into how to open an amazon seller account in Pakistan in 2023, you should know that all the paperwork and required documents should be original to complete the basic procedure to register on Amazon.
Documents Required
National ID card or Passport.
Bank account statement with the same address.
To Sign Up Now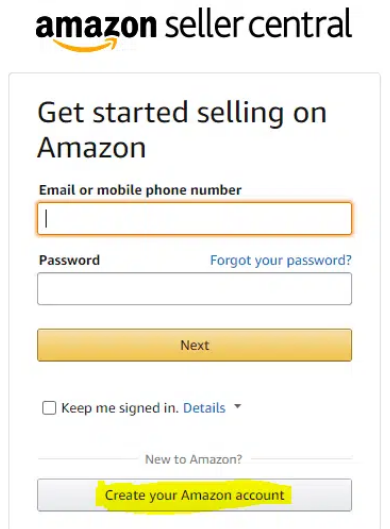 Now enter your full name, email address, and password.
You can create and use your professional email or a second email account just for this. Save your password somewhere on the computer or in a notebook.
Verify the OTP Using the Email You Have Entered
After providing the above information and submitting it, an OTP will be sent to your email address. To verify the email address, enter this OTP.
Arrange These Documents First
You should have these documents, as per Amazon's guidelines.
Business address and contact information.
Valid Mobile or telephone number.
Chargeable credit/debit card.
Business Location & Business Type
In the following step, we will enter business locations and types.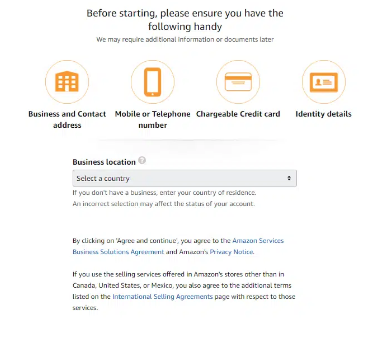 Business Location
Select the country in which you have established your company. You should select Pakistan.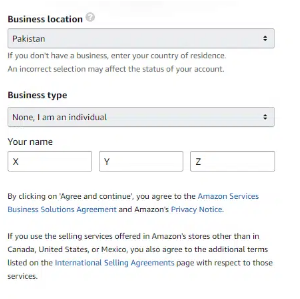 Business Type
In this step, you should describe the type of business you want to operate. You should select one of the following pieces of information.
Publicly owned business
State-owned business
Privately held business
Charitable organization
None, I am a unique individual
You will be asked for your full name if you select the last option, "I am an individual,"
Fill in your first, middle, and last names in the given blanks. If you don't have a middle name, just skip it and type your first and last name.
Agree and proceed
Now read the privacy statement carefully and if you don't understand anything just Google it. Most people skip this step, yet it's mandatory to read the privacy policy to educate yourself.
Summary of Procedure to Create an Amazon Seller Account in Pakistan
Once you're done with the basic procedures of registering using your email, verifying your OTP, and selecting your business type, you should now go through these five given details.
Step 1: Personal Information
Provide your citizenship, birth nation, date of birth, identity evidence, and business address, which can be bought virtually if you don't have one.
Step 2: Select a marketplace
After you have entered your personal information, Select the marketplace and choose where you want to sell your products.
Step 3: Billing Information Verification
Amazon will now ask you to enter billing information, such as the card number, expiration date, and the name on your credit card, in order to verify whether the billing information is valid or not.
Step 4: Details about the store
Once you have provided accurate billing information, you will be asked a few questions about your Amazon store and the products you want to list.
The title of your Amazon store.
Do your products include UPC codes?
Are you the manufacturer and brand owner of the Amazon goods you're selling?
Is your product protected by a registered trademark?
Answer the questions and then click the button below.
Step 5: Amazon Addresses Verification
Previously Amazon used to send special codes via postcard to the given address for verification. It was a unique code that took up to 10 days to arrive. But it's not needed anymore as you will be asked to schedule a call at the end of the process. In this call, a representative will interview the store and verify the given personal details. You can click on this link to sign in and access your Seller Central account. https://sellercentral.amazon.com.
Conclusion
Amazon has provided many business possibilities for entrepreneurs, all types of firms, and local businesses. This is the moment to grow Pakistan's E-Commerce community. We should try our best and prove to Amazon that we also exist in the worldwide market. Instead of doing scams and tricks we should work hard and keep our country's name clean. We have provided all the information on how to open an amazon seller account in Pakistan in 2023. We leave the rest of the work to you.