Muqeem vaccine registration is now mandatory for all passengers traveling to Saudi Arabia, according to a circular issued by General directorate of Jawazat ( The Saudi immigration department). All travelers including foreign residents of KSA, visitors as well as new and existing visa holders are now required to register their vaccination status. Since Saudi Government has lifted travel restrictions for some categories of passengers coming from banned countries, so Muqeem registration is one of the unavoidable essentials.
Generally, there are three major requirements for traveling to Saudi Arabia:
PCR test
Muqeem Registration
Health Declaimer Form. It can by downloaded and filled by clicking here
Who can register at Muqeem?
This portal is especially launched for KSA visa holders who are currently outside KSA either in home country or in a third country. Such people have to register in Muqeem to update their vaccination status.
How to Register vaccine status in Muqeem?
If you are currently outside Saudi Arabia, you can register your vaccination status regardless the type of visa you hold. However, it is mandatory that you have to register it maximum 72 hours before your flight to KSA. The step by steps registration method is given below.
Muqeem Vaccine Registration Steps:
First of all open the official website of Muqeem. You can do it on any device including pc/laptop/tablet/smartphone. Simply click the link given below:
Have a look at the following screenshot:
The default of language of this website is Arabic, you can change the language by clicking "English" button.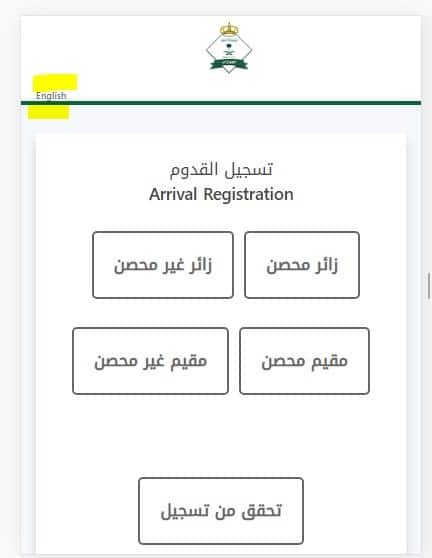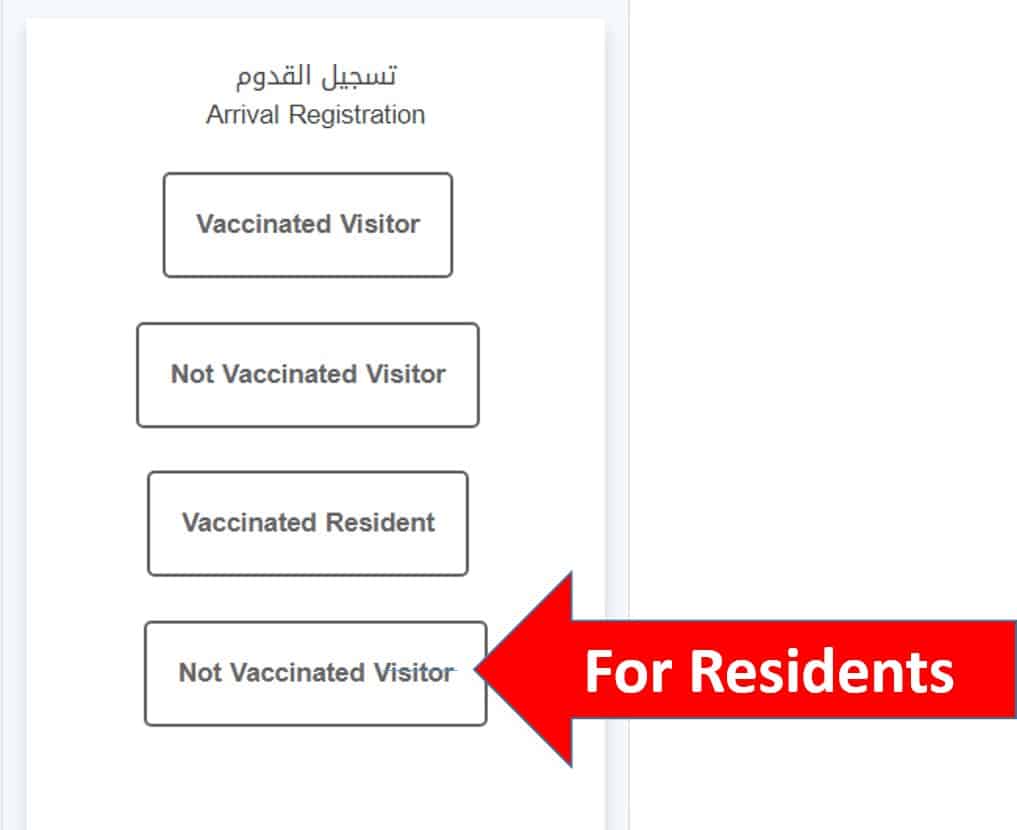 You can see the following options:
Vaccinated Visitor: 
for those who have already received any type of vaccine jab any number of dose, they can use this option for registration. This category is for visitor visa holders.
Not Vaccinated Visitor:
Visitor visa holders who haven't received any vaccine dose any where, they will use this option for registration.
Vaccinated Resident:
Residency visa holders, who have received any vaccine jab at any where, they can register through this tab.
Not Vaccinated Resident:
Residency visa holder who didn't get any vaccine jab, they should go with this option for registration.
Check Registration:
You can check your vaccine registration here online after you have completed your registration.
Depending on your visa type and vaccine status, you can choose any option. For example: we choose "Not Vaccinated Resident".
A new page will open, you have to enter your iqama number, date of birth, click "I am not robot" and click "Verify".
Now, the system will automatically fetch your record from immigration/government system and show you on next page. You have to enter the details about your journey including flight number, arrival time in ksa, arrival destination (airport) in Saudi Arabia, name of airline. You have to enter details about your quarantine arrangements which can be hotel or shelter center because all not vaccinated residents have to quarantine upon arrival in ksa.
finally click the given buttons like " I am not a robot", empty check box for declaration and click "submit".
This is the process for all residents who have not received any vaccine dose.
The process for other three types of passengers is almost same. The only difference between not vaccinated and vaccinated registration is that there is no requirement of quarantine for vaccinated passengers. So vaccinated passengers do not need to enter quarantine arrangements details, instead they have to enter information about vaccine and must hold a vaccination certificate from the vaccination department who gave the vaccine. In case of Pakistan, the vaccination certificate can be obtained from NADRA.
All visitors and residents who received vaccine jabs in Saudi Arabia, they do not need to hold vaccination certificate because their record is already available in Tawakkalna, however, they must make sure that they have already registered in Twakkalna. Such people can update their vaccine certificate at the following link:
https://eservices.moh.gov.sa/CoronaVaccineRegistration/
Conclusion:
All passengers who are currently abroad and want to travel to Saudi Arabia, they must apply for Muqeem Vaccine Registration. According to Saudi Government, Muqeem Registration will help immigration department and passengers to speed up the process of entry at Saudi airports or any other port of entries.