Muqeem Visa Validity:
The time period between issuance date  and expiry date of your visa is called visa validity. You can travel and re-enter the country within duration visa validity. It means you can use your visa for traveling as long as it is valid. A visa can be issued with a single entry, double entry, multiple entries or it may be issued with unlimited number of entries; it depends on visa type and your country of citizenship. It is very important to check Validity of your KSA visa. I have shared a very simple method to check Saudi Arabia visa validity by using Muqeem Visa Validity Service.
How to Check Saudi Arabia Visa Validity?
Saudi Arabia's Ministry of Interior (MOI KSA), has already launched many useful online services for expats. One of them is Muqeem Visa Validity Checking Portal. Muqeem Visa portal allows you to check your visa validity online. You can check validity and other relevant details about your visa by using Muqeem Visa Validity Service. With Muqeem, you can check Visa Validity of Your Exit/Reentry Visa as well.  Apart from Muqeem, you can check your visa status with Enjazit, Click to Check Your Visa is Original or Fake.
Muqeem Visa Service is easy to use and you do not to log in. You can access their website either you are a PC/Laptop user or smart phone/tablet user. All you have to Visit the official Website of Muqeem by Clicking Here.
Please see the following screenshot of "Visa Validity Service" page. Usually, this website opens in Arabic because Arabic is default language of Muqeem Visa portal. So, you can change the language of website by clicking "English" which is available at top corner of the page. Please see the below screenshot: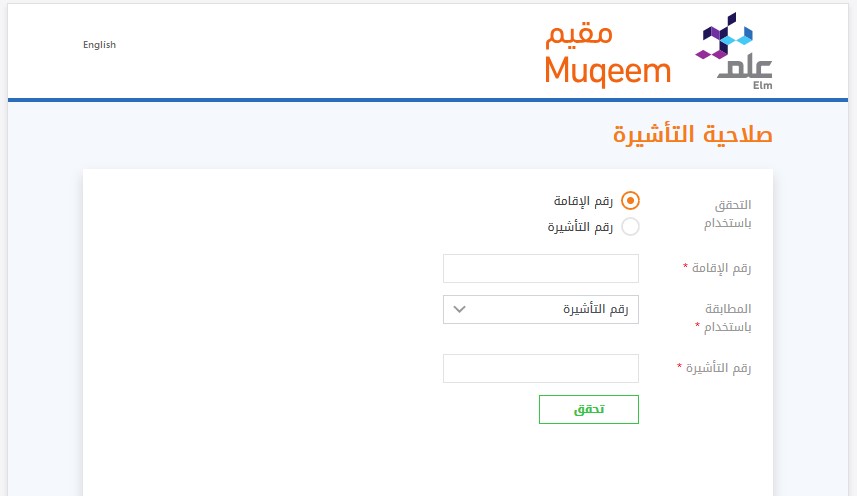 Now, you have english version of muqeem website. When you open this page, you will see the title" Visa Validity " and two other menus "Check using "(and "Cross Match by".
For the "Check using", you have two options the Iqama number and Visa number. You have to select anyone you like. If you select visa number,  an empty field or box will appear for you to enter your visa number. However, if you want to enter your iqama number, you have to select "iqama number". A blank box will appear for you to enter your valid iqama number.
Now, you can see there is another option "Cross match by". You have to click "Please choose value", a list of credentials will appear as shown in the following screenshot:
You can see that list includes visa number, passport number, name, date of birth, iqama expiry date and visa expiry date. You do not need to enter all these credentials. Simply select anyone of these, An empty box will appear for you to enter the details. For exmple: if you choose "name", a box will appear where you have to enter your name.
Once Entered value for "check using" and "cross match by", just click on "Check" button.
The system will show details about your visa validity.
Visa Validity Check inquiry will be look like this as shown in this picture: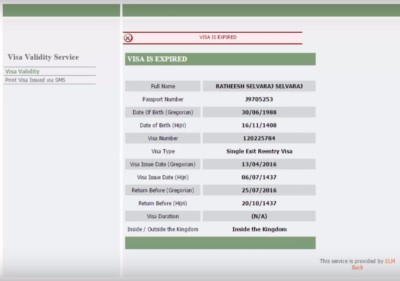 Saudi Arabia Visa Status Check Video Tutorial:
Ministry of Labor and Social development MLSD has announced that the work visa of foreign workers will extend and renewed for two years instead of one year and there won't be any additional fee for renewals. This covers old visas too. In fact, this step is being taken in order to boost and stimulate the private sectors so that they may grow better and faster. Companies will have right to cancel the existing visas even the visas are valid and can apply for two year visas for their employees.
Saudi Arabian Government trying best to employee local citizens instead of foreigners in order to reduce country's unemployment rate especially in the government sector jobs. This is being known as Sauidiaztion and this policy made many foreigner jobless and they had to leave Saudi Arabia.
Types of Saudi Arabia Visa
Saudi Arabia grants various type of visa depending upon the purpose of travelling. Here is a list of visas which are normally issued to foreigners.
Business/commercial visa.
Diplomatic and official visa.
Employment/work visa.
Escort visa for Dependents of principle traveler.
Residence visa.
Family visit visa.
Government visit Visa.
Student visa.
Hajj Visa.
Umrah Visa.
Work Visit Visa.
Saudi Arabia has already announced that it would launch e visa very soon in the current for the citizens of USA, All Schengen zone countries, Australia, Japan, South Korea, South Africa, Brunei, Malaysia, Singapore and Taiwan. Saudi Arabia had already granted visa a car racing support event in December 2018 through Formula E service. It was trial of KSA E visa and were available for almost every country. However, it would be available to only specific countries. Saudi Arabia is making rapid changes in its immigration system in order to ease the foreign visitor to boost it tourism industry. So a tourist visa with sole purpose of tourism will also be launched soon.
As I mentioned above the types of KSA visa, so each visa type has its own specific validity and number of entries. If you have single entry visa it will allow you to enter and leave the country only one time. If you leave the country with your single entry visa, you cannot re-enter the country with same visa. Your visa status would not be valid any more, in other words your visa would be expire. You have to obtain Saudi Arabia multi entry visa if you want to re-enter the country.
Through the easy and simple method you can check you KSA "Visa Validity" by using muqeem visa validity service in a quick way. it is advisable to be aware of you visa validity and Expiry date.
Expats in UAE should also check Status of Their UAE Visa.