Today's article is about the MOFA family visit visa status check Saudi Arabia. Most people make this mistake and they don't verify their visa from the Foreign Ministry of Saudi Arabia Arabia. It is Kafeel's or the company's responsibility to properly verify your visit visa. We will share all the steps and information to check your visa issue status and details online.
Check family visit visa status, click here.
Follow These Steps for Family Visit Visa Status Check Saudi Arabia:
First, visit the official website:
select the English language option and scroll down to the bottom.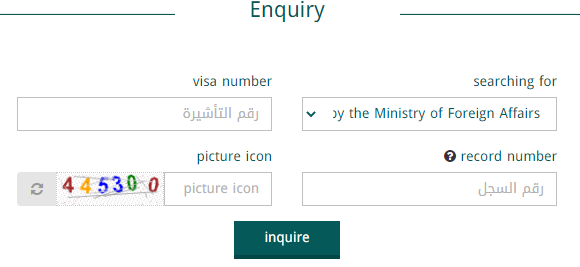 Search for: Enquiry Section.
In the searching for section select: A visa issue by Ministry of Foreign Affairs.
Enter your visa number given on the visa application form and record number.
Fill in the CaptCha code and hit inquire.
All the Possible Family Visit Visa Status Check Results
Application Under Process: If you this message لطلب تحت الاجراء it means your visit visa application is still in process.
Visa Application Submitted to the COC
Once the application is submitted to the chamber of commerce, the family visit visa status will show the name of the chamber of commerce where it is submitted.
Visa Approved
If you see this message: "Please print the document and communicate with any of the visa services offices accredited to the mission to provide documents and introduce visa applications electronically". This means good news and MOFA has approved your visa. You can now send a PDF visa copy to your home country in order to book an Etimad Appointment.
Visa Rejected
If you this message as a result of inquiring about your visit visa status: تعتذر الوزارة عن تحقيق الطلب it means your visa has been rejected
No Results Found
If the following message appears: لم يتم العثور على اي نتائج، يرجى التاكد من البيانات المدخلة: It means the information you have entered is wrong or maybe MOFA deleted your visit visa application. For the MOFA family Visit Visa Status Check Saudi Arabia, you can use this method.