Recently an electric scooter license has been introduced in Dubai, so a lot of residents want to know how to get electric scooter license in Dubai.  Residents can apply and obtain a free e-scooter license. A safety manual has also been released. The need of the hour is how to get an electric scooter license in Dubai? Worry not as we are here to discuss from technical specifications to areas where they are legal to drive by the RTA. You will find all the information required to operate them in the UAE. Roads and Transport Authority Dubai is allowing free e-scooter riding permits to the public through an online platform. The platform is active since (Thursday, April 28) but most riders are still not aware that the service is already operating.
New Traffic fines in Dubai, click here.
how to get electric scooter license in Dubai, Step by Step:
We know that RTA cares for their residents, that's why they have published a detailed user manual on e-scooters along with the detailed guidelines about the areas they are allowed, and how to read traffic signs and road markings works. They have also provided all the important information needed to know how to get an electric scooter license in Dubai. In order to apply for a permit visit the RTA's official website by clicking this link:
and follow these steps:
Go to the RTA website and select one of the given options and click continue.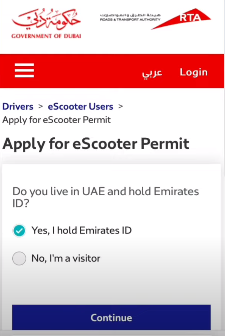 Enter ID number and expiry date.
Enter your mobile number and the received opt code for verification.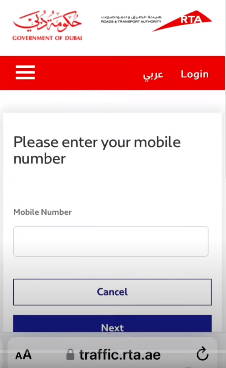 Check all the filled information.
Approve terms and conditions and click submit.
Select the e-scooter license and attempt the theory test for the e-scooter.
You should have all the basic knowledge to pass the test or take can take some classes and search on YouTube.
Once you have provided all the details and followed the step-by-step instructions, the permit will be issued instantly and you can download it easily.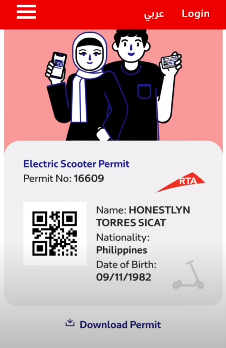 Eligibility Requirements and Rules for an E-scooter Permit:
In order to obtain an E-scooter permit, the individual should be the following criteria:
Minimum 16 years of age or older.
Always wear a good quality helmet, reflective jacket, and appropriate shoes.
Using mobile or headphones is prohibited while riding on an e-scooter.
Abide by all instructions, guidance, and warning signs.
Complying with all traffic rules e.g., stop, give way signs, traffic light signals, and road markings.
Park at only e-scooter designated places.
Dismount while using pedestrian crossings.
Do not take any passengers, always ride alone.
You should not carry anything with you on the handle that may cause an imbalance in the proper handling of the e-scooter.
Specifications of E-scooter:
The given e-scooter specifications are for your knowledge and always use e-scooters that comply with quality and standards approved by the RTA. An e-scooter should have the following specifications:
The electric scooter should be manufactured to adjust to the country's climatic conditions.
The electric scooter should be exact to the specifications specified by the authority.
Check that the bell/horn is working properly.
Front and back lamp working.
The maximum speed limit of the electric scooter is set at 20 km/h.
The tires should be in good condition.
Brakes on the front and rear wheels should work properly.
Areas Allowed to Ride the E-scooters:
Only ride on paths that are permitted in districts and areas.
Only ride the electric scooters on bicycle paths specified by the RTA.
Riding the e-scooter on any road is strictly prohibited and hence against the law. It is to ride on safe streets specified by the RTA. These are roads that are marked by clear red lines at the beginning of the road, signs and ground markings, and a road speed limit of 30 km/h.
Permitted Areas and Routes for an E-scooter:
The actual operation of e-scooter in ten districts in Dubai was restricted to the designated cycling lanes in:
Sheikh Mohammed bin Rashid Boulevard
Jumeirah Lakes Towers
Dubai Internet City
Al Rigga
December 2 Street
Palm Jumeirah
City Walk
Safe roads at Al Qusais
Al Mankhool
Al Karama
It is also permitted in all cycling and scooter lanes across Dubai, except for the cycling tracks at Saih Assalam, Al Qudra, and Meydan. The permitted lanes keep updating so it's important to check the map every once in a while.
That's All dear readers. We have explained how to get electric scooter license in Dubai. If you any query, you can contact relevant authorities through their official channels.