Online Vehicle Verification KPK:
Thinking about purchasing a vehicle in KPK? There are certain steps to take before you proceed any further. Such as checking the excise taxation record and other necessary documents verified by an authority. It will be proved beneficial if you don't want to face any legal issues afterward in case the vehicle was involved in illegal activities, bought illegally by previous owners, or stolen. In this article, we'll talk about the process for Online vehicle verification KPK using online portals and SMS in Pakistan.
Check NADRA ID online, click here.
We remember that the verification procedure was very difficult and time-consuming before. But today with the help of the latest upgrades in the excise system, this process has become very quick and easy. You can verify the vehicle status via SMS or the online KPK excise portal. To check via SMS you just have to send one text and all the important details of the taxation and excise will be sent within a few seconds.
Stolen Vehicle Verification Via SMS:
The Government of Pakistan made some efforts back in 2013 and introduced the Stolen Vehicles Identification System (SVIS). This system was basically introduced to stop the resale of stolen vehicles and locate them. You just have to type the vehicle chassis number and send it to 8521 sitting anywhere in Pakistan, using any mobile network for vehicle verification in KPK. After a few minutes, all the information will be sent to your mobile phone. Follow these steps for SMS vehicle verification:
Type in the vehicle's chassis number you want to check in the SMS application.
For Example CNO ABCXXXXX.
Send it to 8521.
You'll shortly receive all the required details.
Online Vehicle Verification KPK through Excise Portal:
Besides the SMS vehicle verification facility, you can also use the online excise portal by following the steps below: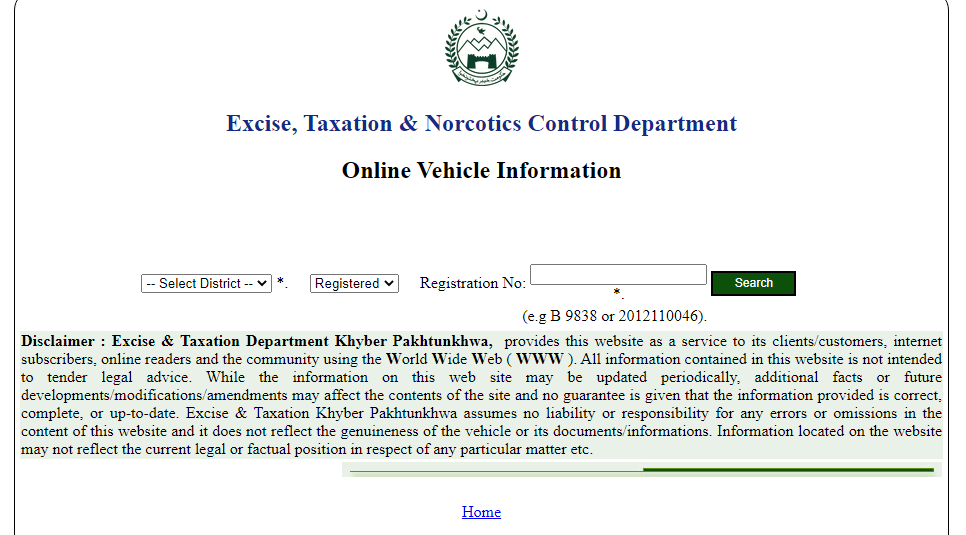 Click on select district and select the relevant district for verification.
Now type in the registration number and click search.

All the data of the vehicle will be shown just like in the picture given below.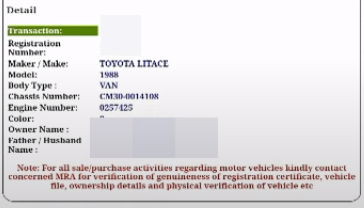 Conclusion
You can click on the above-provided links according to the province for online vehicle verification. Once the page loads, enter the vehicle number in capital letters and click on search. They might ask you to fill out the ReCaptcha. After that, you will see the complete information regarding vehicle verification KPK. This is the complete process of