Monkeypox virus outbreak 2022 is the most discussed topic these days. World Health Organization (WHO) received two reports of laboratory-confirmed cases in the United Kingdom on 13 May 2022. One of them was a possible case of Monkeypox. Both cases were diagnosed by the same family members. Now one to two cases are being reported every day. The majority of young men are infected by the disease, mostly the ones who have sex with men (MSM). These cases are not linked to any travel-related history to Nigeria. So far no death has been reported, which is a big relief. The patients are being transferred to hospitals for isolation and treatment. The source of infection is yet to be confirmed however WHO is putting a lot of effort into establishing incident management teams where possible. According to the recent information the virus was first acquired in the United Kingdom then after a few days, there was an outbreak.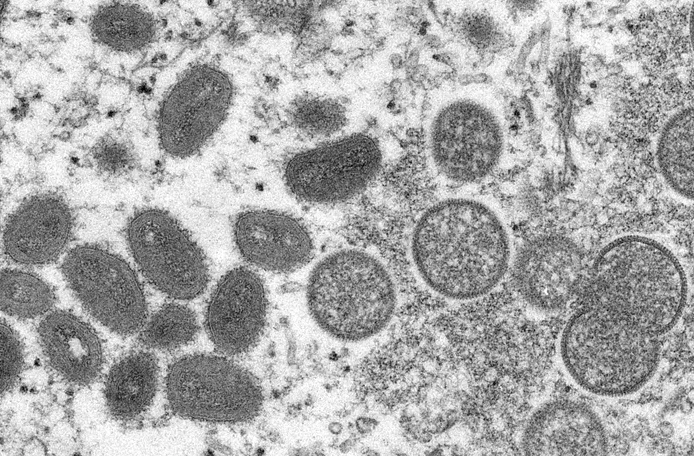 Updates about Recovery of the Cases of Monkeypox Virus Outbreak 2022:
The two patients of these confirmed cases have fully recovered now. The first patient developed a rash on 5 May, admitted to a hospital in the United Kingdom on 6 May. For better treatment, the patient was transferred to a specialist infectious disease center on May 12. Another case of vesicular rash was reported on 30 April that was confirmed Monkeypox on 13 May. That patient is also in good health now. With the help of reverse transcriptase-polymerase chain reaction (RT PCR) and vesicle swabs, the West African clade of Monkeypox was confirmed. WHO then notified all the departments about the confirmed cases and advised them to carry out awareness campaigns against the MSM and Sexual Health Services which causes a vesicular rash.
Origin of the Disease (Monkeypox) and Symptoms
Monkeypox Virus Outbreak 2022 is rapidly spreading day by day. It is time for people to have the necessary information about it. Monkeypox is an infection that spreads through the transmission of the virus between non-human primates. It is called sylvatic zoonosis. It is very common in forested parts of Central and West Africa. The Monkeypox virus belongs to the orthopoxvirus family. Monkeypox is transmitted from one body to another. A little droplet exposure, exhaled via large droplets, and any contact with the infected skin may result in infection transmission. Monkeypox usually takes about 6 to 13 days to fully develop but sometimes it takes 5 to 21 days. The infection is often self-limited and takes about 14 to 21 days to show its symptoms. The symptoms include mild or severe headache, Flu, and lesions that can start to feel very itchy or painful afterward. The animal-related to this remains disease is still unknown, although rodents are the wildest guess. Any kind of skin contact with live and dead animals through hunting and wild games or bush meat is a commonly known risk factor.
Monkeypox virus belongs to two clades: the West African and the Congo Basin (Central African) clades. The West African clade of infection sometimes leads to severe illness in some cases. If we talk about the case-fatality ratio, In the West African clade it's around 1%, whereas, for the Congo Basin clade, it's high as 10%. Children are more exposed to infection. Monkeypox leads to complications for pregnant patients. For example, congenital Monkeypox, or stillbirth.
In the Monkeypox virus outbreak 2022, there will be many milder cases. The bad thing about these cases is that they may not be detected and the risk of person-to-person transmission will be at large. The amount of immunity cells from this infection is not too good, especially if you traveling. Unfortunately, you will be exposed to the virus very soon. It is an endemic disease that is normally limited to parts of West and Central Africa. Vaccination against smallpox seemed protective against Monkeypox. In 2019 and 2022, the (MVA-BN) vaccine and one specific treatment (tecovirimat) showed fast recovery results and were approved for Monkeypox. On the other hand, these two affective countermeasures are not yet available widely. The worldwide population under the age of 40 to 50 years is covered and afforded by prior smallpox vaccination programs.
WHO Advice and Risk assessment
WHO is strictly advised to follow Intensive public health measures for the Monkeypox virus outbreak 2022. Contact tracing and source tracing, case searches, and local rash-illness surveillance should be maintained in the MSM and community widely. Any patient who is diagnosed and suspected of Monkeypox should be isolated and examined ASAP. The supportive care unit should take good care of the patient in infectious periods, prodromal, and rash stages of the illness. Awareness measures should be taken by health care providers for dermatology clinics and sexual health to prevent the rising number of cases in the current outbreak.
In addition, the implementation of pharmaceutical countermeasures under investigational protocols should also be carried out. The health workers and caregivers should also be examined regularly and in case of confirmed Monkeypox, standard, contact, and droplet infection control precautions should be implemented effective immediately. The virus sample taken from patients or animals suspected of Monkeypox should be handled with care and safely handled by professionals qualified with laboratory equipment.
If you feel any illness during travel or upon returning from an endemic area, report to a health professional or institute, including information about all recent travel destinations in the past days. Always keep track of your immunization history. If traveling to endemic countries is necessary then strictly avoid contact with sick animals (rodents, marsupials, primates), and avoid eating or handling wild game (Bushmeat). Keep yourself hygiene by using sanitizer and soap as much as possible. WHO is closely monitoring the situation all the time and no doubt it is evolving rapidly.
Conclusion
There is no confirmed source of infection yet for either the family or MSM clusters. Based on the current information the infection seems to be locally found from country to a country rapidly. How far it will spread? There is no estimation for that. However, where ever it is found appropriate public health measures should be initiated, including isolation of the cases and treatment.
Check Covid Vaccine Status, Click here.