How to Register Hajj 2023 from USA:
Hajj is one of the five pillars of Islam and every Muslim wishes to fulfill it. If you are among them then you should be wondering how to Register Hajj 2023 from USA. We have got your back! These days, all the Hajj preparations are done online and digitally using the Hajj Nusuk platform. You can monitor and manage all your bookings also. No matter whether you are living in Europe, or the southern or northern countries, you can manage everything from one portal. In this article, we will give a tutorial so you can go through the process and provide the basic information to the Ministry of Saudi Arabia required for Hajj registration.
Hajj Packages in USA, Click to read.
How to Register Hajj 2023 from USA Using Nusuk Hajj Portal:
how to Register Hajj 2023 from USA, we have explained step by step below:
First, visit the official Nusuk website by visiting this link: https://Hajj.nusuk.sa/
Click on create an account and sign up by entering your personal information.
If you are traveling from USA, select your nationality as the United States.
The other blanks are just for the typical data of any passenger traveling to another country.
Tick the first two boxes of Terms and Conditions.
Click on register once you have entered all the details.
Now you will be asked to enter the 4-digit code to complete registration.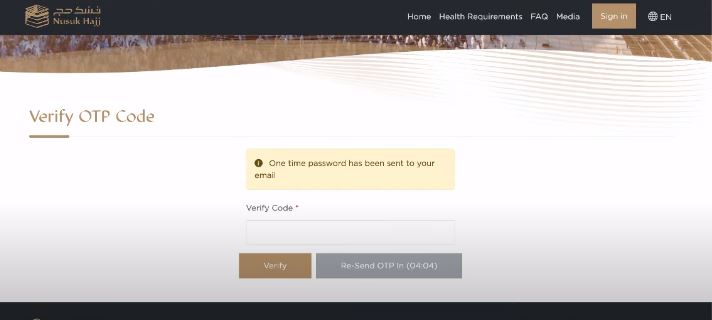 Make sure to give a valid email address as an OTP will be sent by email.
You will receive a notification via email stating that your email has been verified.
Now log in to the platform using the email, and password and filling the CaptCha code.
Another OTP will be sent to your registered email for login.
Once you have logged in, the Nusuk main dashboard will appear.
The next step is to enter the passport details. We advised having at least six months of validity for a smooth Hajj.

Required fields are for the typical information mentioned on every passport such as passport number, expiry date, and birthplace, etc.
In the attachments section, upload the passport scanned file and a personal photo with clear facial features and white background.
The maximum file sizes are mentioned under each document.
If you have files that don't support the file size asked for upload, you can just go to Google and use any pixel resize website to resize the image according to requirements.
Click on save once you have entered all the information and uploaded the documents.
In the next step, add companions/family members' information about traveling with you.
You can click on add a companion to add your wife, sister, brother, or any other relation traveling with you for Hajj.

Now you will be asked to add the personal information of the companion.
This process for adding the companion's details is the same as the one we did before.
Click on save once you have entered all the details.
Now you will have to select the package for Hajj. No need to panic if there are no options available about Hajj packages as you will be notified via email once they are ready.
There will be a minimum of three options available, Express, Deluxe, and Executive.
We have posted another article on our website for Hajj packages only. You can read it for an idea about the types of Hajj packages: https://infoomni.com/Hajj-2023-from-the-usa/
You can either select a travel agency to make a Hajj file on your behalf or use the Nusuk portal and do it yourself. The better option is doing to yourself and select all the required facilities for the best experience.
Conclusion
We hope now you know how to Register Hajj 2023 from USA. All the steps are very easy and anyone can do it. The key to doing it right is attention to detail. Enter all the asked details correctly. We wish you good luck with the Hajj 2023 application.