Lost your passport and now need a UAE exit permit? The Federal Authority for Identity, citizenship, customs, and ports security (ICP) shared the good news on social media platforms on 12th April. They informed visitors and UAE residents about their official website: ICP.GOV.AE and the services they are providing including an exit permit, UAE Exit Permit is now available through ICP website. Today, we will discuss this procedure briefly.
Check UAE Visa Status, Click here.
Information About Required Documents for UAE exit permit:
If your visa was issued by any other emirate than the Dubai, you can apply for an exit permit through the ICP website or its service centers. On the other hand, if your visa was issued in Dubai, you will have to apply for an exit permit through the General Directorate of Residency and Foreigners Affairs (GDRFA).
The required documents and the application process for the UAE exit permit is the same for both ICP and GDRFA.
Important documents that are needed include a passport and valid documents from the embassy or consulate.
Missing travel passport/documents police report.
Travel ticket copy.
Two photos of the applicant.
A travel document from the consulate.
Consulate always helps the citizens who lost their passports. They provide travel documents or emergency certificates. Each country's consulate has a different process for registering travel documents. So, it is necessary to contact your country's consulate before applying for an exit permit.
Steps to Apply for UAE Exit Permit Via ICP Website
1. First you need to visit their individual service panel at:
https://icp.gov.ae/en/services/services-for-individuals/
and select Issue Exit Permit.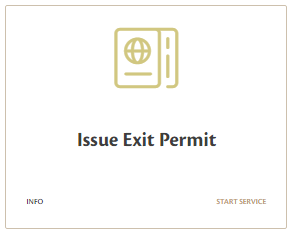 2. Then click on start service, you will then be navigated to sub-channels here you need to find (INVESTIGATION – PERMIT – LEAVING – ISSUE) then hit start service.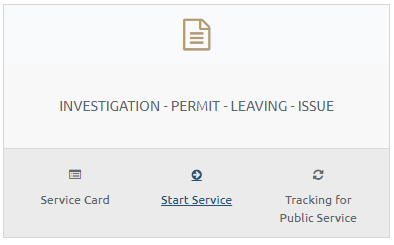 3. Now fill in all the required information in the UAE Exit Permit application form.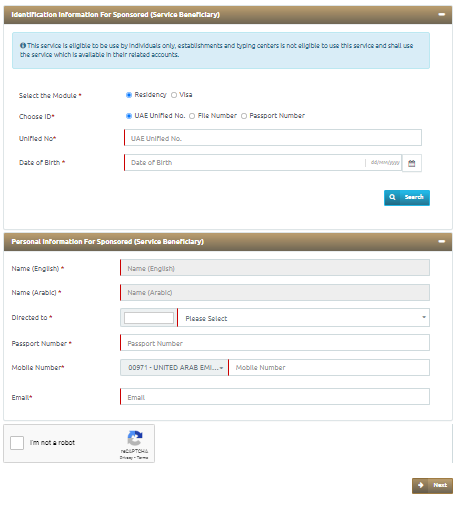 4. Next attach all the documents to issuing an exit permit like a police report if you have lost your passport.
5. After putting all the information and submitting the application form, you will have to pay the fee. It can be paid easily with a debit/credit card.
6. The application fee is 100 Dirhams, the Issue fee is 100 Dirhams and the Electronic service fee is 50 Dirhams= 250 Dirhams.
Once you have paid the fee an email or SMS will be sent to you about the status of your application. When your application is accepted, they will start sending regular application updates.
Steps to Apply for Dubai Exit Permit Via GDRFA
If you are a resident of Dubai you can issue a UAE exit permit through GDRFA. You will need to visit the GDRFA center and follow the steps below.
1. Just like filling out the application online, you will have to do it manually by visiting the AMER or GDRFA center.
2. Please bring all the required documents with you. Once the form is completed submit it to an officer.
3. Upon submitting you will ask to pay a service fee of 200 Dirhams.
4. 20 Dirhams is also added per transaction.
5. Collection commission for companies is 50 Dirhams and for individuals 15 Dirhams.
6. Application submitted through Amer Center cost 100 Dirhams.