How to Book Makkah Entry Permit Online:
A Hajj permit is now mandatory in order to enter Makkah. Even residents cannot enter the Holy Place without a permit issued by the competent authorities. This rule is effective from the 15th of May, 2023. Residents who don't have an entry permit will be asked to go back from security checkposts. It's the decision of the General Directorate of Public Security to ensure good entry regulation in the Holy Place as the Hajj season approaches.
No matter what kind of vehicle and ex-pat residents are trying to enter, they will be surely turned back. Only those people are allowed to enter, who work in the Holy Sites, and who have a Holy capital-issued identity card. Or pilgrims with an Umrah or Hajj permit. All these security measures are in place to ensure the safety of Hajj season participants.
Hajj Flight Schedule 2023, click here.
The General Directorate of Passports has announced that they are now accepting Makkah entry permit online applications. This service is currently available for workers who are employed and residing in Makkah, domestic workers, non-Saudi residents, and contractors with establishments registered in the 'Ajeer' system during the Hajj season. It will be mandatory for people who need to enter and exit Makkah on a daily basis due to their profession.
Travel agencies can access this service using the electronic "Muqeem" portal. On the other hand, for non-Saudi residents, the 'ABSHER Individuals' platform can be used for the Makkah entry permit online application. The new electronic services aim to provide many benefits such as quick application processing time, and less effort for the Hajj season participants.
Eligibility Requirements of Makkah Entry Permit:
The following are the eligibility requirements for those who are living in Saudi Arabia:
A valid Iqama.
There is no Huroob. (Abent from work violation).
The applicant should be living in Saudi Arabia.
The Process to Apply for the Makkah Entry Permit Online
First, you need to visit the website: ABSHER.SA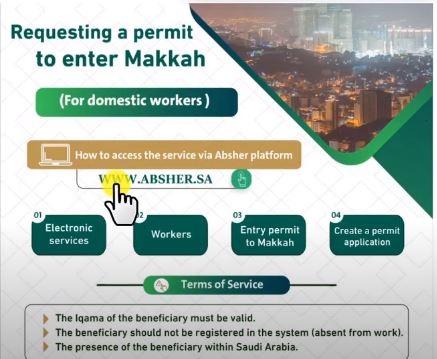 Then click on Electronic Services>Workers>Entry Permit to Makkah and then Create a permit application.
Fill out the application with all the relevant information and submit it.

Note: Only companies, travel agencies, and Kafeel can apply for this permit.
Conclusion
This is how you can Book Makkah Entry Permit online in 2023. The General Directorate of Passports and the General Directorate of Public Security are monitoring all the measures closely. They are willing to take any necessary steps to ensure the safety and security of people participating in the annual Hajj season. We wish you good luck with your pilgrimage.